The first Irish language preschool in a protestant and unionist area of east Belfast is set to open in September.
Naíscoil na Seolta – School of Sails – is so named because of its proximity to the famous Harland and Wolff Shipyard.
It is 50 years since the first Gaelscoil opened in Northern Ireland and now more than 7,000 pupils there are in Irish medium education.
The Naíscoil will be an integrated school, but it will be located on the site of the Braniel Primary School in east Belfast.
Caoimhe Ní Chathail's daughter will be among the 16 pupils who will attend the preschool in September.
"I'm just delighted. My husband is a protestant, so for us in a mixed marriage, we want to ensure that our child understands both aspects of her culture and heritage and all of the communities that are here," she said.
Ms Ní Chathail, who lives in west Belfast, said the couple feel that integrated education is the best route to do that.
"Being an Irish speaker myself and raising her through Irish is also a massively important thing for me as well. So to have them both together is just a dream come true," she said.
Principal of Braniel Primary, Diane Dawson, said it is very welcome.
"I think as a controlled school we are very proud of our culture, I'm very proud of my Unionist culture and background but I also embrace that of the Irish culture and background, my father's culture and I certainly really think that any school should be for all children," she said.
"Every child of every faith, culture and religion has always been welcome in Braniel, so the Naíscoil is very welcome."
The Naíscoil build on the work of Irish language teacher Linda Ervine and Turas, who have been running Irish classes for adults in east Belfast for a number of years.
"We ran a lot of education programmes and for us it's about showing that the language joins us," Ms Ervine says.
"It's a language that belongs here and we have shown in east Belfast that language is all around us, it is in our place names, our surnames. It would be more strange if people aren't interested in it."
Ms Irvine herself learned Irish in east Belfast after first hearing it at a cross-community workshop.
"I had never heard the language, I never even knew it existed before that," she said, but has since grown to love it.
She said interest in the language has grown and grown over the years, and that the Naíscoil is a significant but natural next step.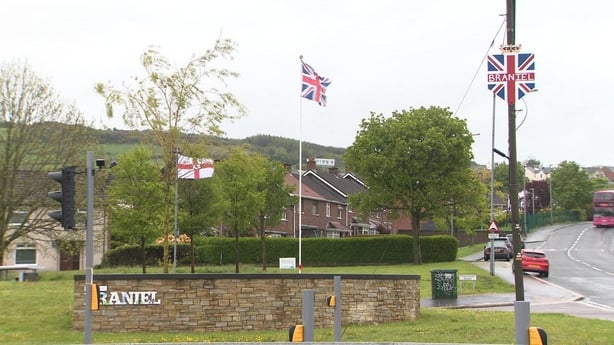 A member of the school's committee says the school had been ready to go ahead last year but "Covid put a stop to everything".
Naíscoil na Seolta recently received funding from Foras na Gaeilge, the North-South body set up after the Good Friday Agreement for the promotion of the Irish language.
Aodán Mac Sheafraidh said the committee started again a few months ago with "new vigour" and secured the funding.
He said that it is hoped the creation of the Naíscoil will pave the way for an integrated primary school.
"That is something completely new in Irish medium education. Obviously all Gaelscoils are inter-denominational but this hopefully will be an integrated school and it gives a chance to lots of people from different backgrounds who didn't have a chance previously to send their children and do their education through the medium of Irish," he said.
Ms Ervine said that the school has linked up with the Council for Integrated Education and also the Comhairle na Gaelscoilaíochta.
"This is the first time they've ever worked together on a project. It means our numbers have to be 40% from the catholic community, 40% protestant and 20% other."
She said that they want to eventually have a secondary school because there is a "massive gap in east Belfast" and that children do not have access to Irish medium education.
The setting up of an Irish language school in an area like this is against the backdrop of ongoing political tensions between unionist parties and Sinn Féin over the introduction of Irish language legislation.
A deal to restore power-sharing at Stormont last year included plans for an Irish Language Act.
However, this week campaigners highlighted that in the 500 days since the deal was made, no progress has been made on this.
Activists brought a video campaign to the steps of Stormont, including the voices of 70 Irish speakers, to send a message to the Northern Ireland Executive, along with the British and Irish governments.