NYSE: GME advances beyond $250 amid a better market mood.
Stocks rallied as US President Joe Biden is said to announce a $ 6 trillion budget.
GameStop was joined by AMC and other meme stocks as the hunt for the MOASS continues.
Update May 28: Shares of GameStop Corp (NYSE: GME) built on the weekly advance and rose 5% on Thursday, topping the psychological $250 in almost ten weeks. The stock renewed two-month highs at $264 before finishing the day at $254.13. Reddit's WallStreetBets forum-led retail frenzy has been the main catalyst behind this week's tremendous rise, as the meme stock is up 40% heading into the weekly closing. This comes after GameStop's new NFT webpage confirmed speculation about their ventures into digital assets. Broader market rally induced by the announcement around the US spending plans also added to the upside in the stock.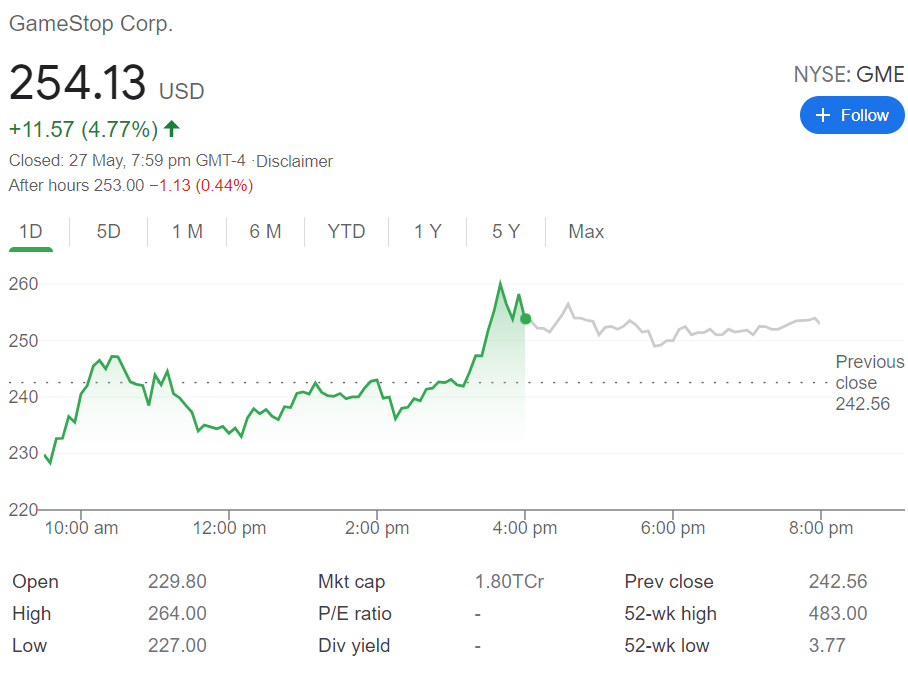 One of the main catalysts was a cryptic tweet from new Chairman and ex-Chewy (NYSE:CHWY) CEO Ryan Cohen. The tweet showed a NSFW cartoon video that was interpreted by some to represent the sharp rise of GameStop's stock price on Tuesday. Many Redditors are claiming that once the $200 price barrier is broken, that there will be little to stop the stock from climbing back up to $300. To add more fuel to the fire, GameStop also revealed a mysterious new NFT site that is hiring developers for an exciting new project.
GME stock forecast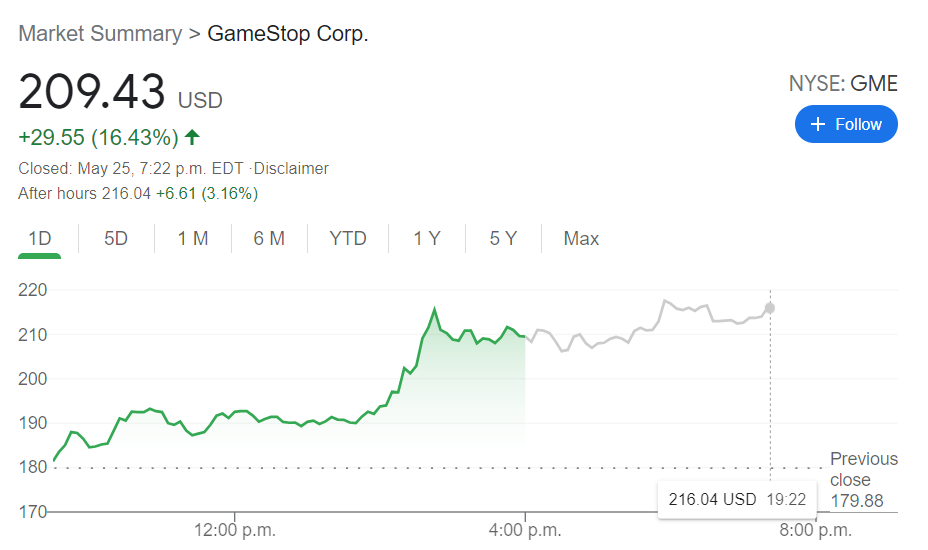 GameStop was joined by its other meme stocks during Tuesday's rally as AMC (NYSE:AMC), Koss (NASDAQ:KOSS), and Naked Brand Group (NASDAQ:NAKD) all rose as sympathy plays. The current discussion on Reddit is that the upcoming gamma squeeze is going to be the MOASS or Mother of All Short Squeezes, and that short sellers stand to lose several billion more dollars after all is said and done.
Previous Updates
Update May 27: Shares of GameStop Corp (NYSE: GME) got to reverse early losses, ending the day up 4.77% at $254.13. The share topped 264.00 intraday as Wall Street rallied ahead of the opening on renewed markets talks about US President Joe Biden's plans to raise spending. News point to a $ 6 billion budget, and a counteroffer from GOP of a $ 928 billion spending program. Meme stocks have been on the rise for over a week, and there are no technical signs of upward exhaustion. The run could extend towards $ 300 in the near-term, where some profit-taking may trigger a corrective decline.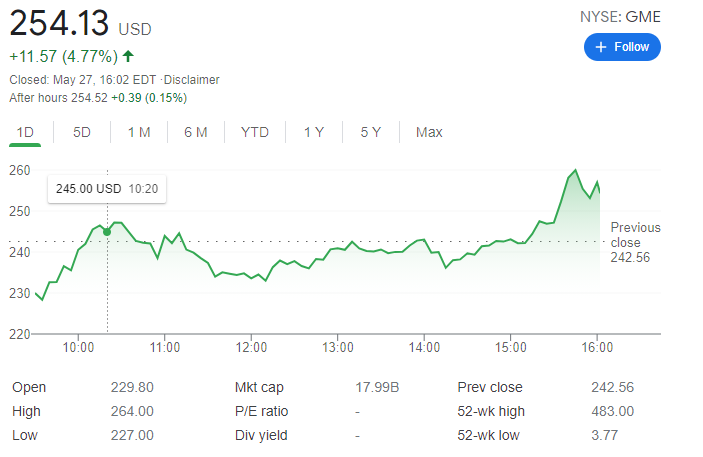 Update May 27: GameStop's surge has to stop at some point – at least temporarily. Thursday's premarket trading data is pointing to a slide of over 3% to just under $235 from Wednesday's closing price of $242.56. Such a correction would be considered healthy after a surge of no less than 35% so far this week. NYSE: GME shares have been benefiting from growing interest on Reddit's WallStreetBets (WSB) community and a tweet by Ryan Cohen, the Chairman of the Grapevine, Texas-based firm.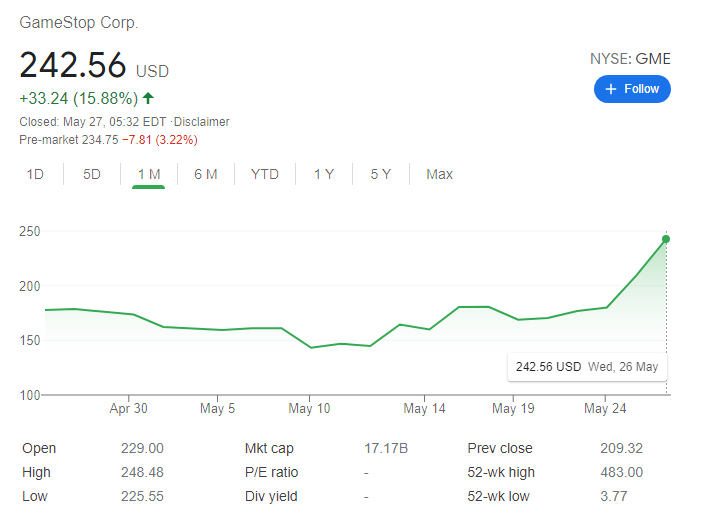 Update May 27: GameStop Corp (NYSE: GME) has kicked off Thursday's trading session with a substantial drop of roughly 5% to around $230, shedding some $12 from its value. Or is such a downward slide indeed significant? After surging some 35% earlier in the week and breaking above the round $200 level, a retreat may serve as a natural, healthy and even welcome retreat. Will the meme-stock crowd see this decline as a buying opportunity? That still remains an open question.
Update May 27: Shares of GameStop Corp (NYSE: GME) gained another 16% on Wednesday, following 20% rally seen on Tuesday, as the stock renewed two-month highs at $242.56. Meme-stocks such as GME and AMC Entertainment (AMC) witnessed a spike once again, as they are back in favor of Reddit traders. The main reason for this week's advance in GME shares is due to the company's plan to create a non-fungible token platform (NFT) for a meme-based play. A positive tone around the Wall Street indices also helped the surge in GME.
Update May 26: NYSE:GME added 15.88% on Wednesday to close the day at $245.56. So far this week, it has added over 35%, despite of Wall Street is incapable to find directional strength. Speculative interest seems to have resumed buying the stock after it became oversold. Investors are also focused on the US Federal Reserve and comments from policymakers indicating that the ultra-loose monetary policy would remain firmly in place despite inflation spikes. In this scenario, returning to riskier assets seems to be more attractive.
NYSE:GME is fast approaching price levels where the supposed gamma squeeze will take place, and Wall Street is abuzz once again. Tuesday saw GameStop shares hit orbit, gaining 16.34% and closing the trading session at $209.43. The stock continued to climb in after-hours trading and now sits at over $214 at the time of this writing. GameStop saw its daily trading volume surge on Tuesday, as retail FOMO and liquidated cryptocurrency equity migrated from exchanges and back into meme stocks.