NYSE:GME surges by 15.82% as the latest meme stock gamma squeeze continues.
More details emerge about the new GameStop NFT site that surfaced on Tuesday.
Fellow meme stocks rally alongside GameStop as short seller losses continue to pile up.
NYSE:GME has officially gone bananas, literally, as the Reddit Apes continue to pile into the stock in the latest coordinated short squeeze of hedge fund managers. On Wednesday, shares of GameStop skyrocketed gaining 15.82% to close the trading session at a staggering $242.56. Any sort of fundamental analysis has been thrown out the window with GameStop, and it is surprising that institutional investors continued to openly short the stock despite the ongoing attention it has received. The stock has gained an incredible 45% over the past five trading days.
In an announcement that flew somewhat under the radar, GameStop announced that it was hiring for its new NFT or Non Fungible Token site. Not much is known about the site yet, except that it will operate on the Ethereum blockchain, and that GameStop is finally making its long awaited entry into the cryptocurrency sector. NFTs have been an incredibly popular way to digitally certify things like artwork, and so this could be an interesting revenue stream for GameStop as Ryan Cohen attempts to rebuild the franchise from the ground up.
GME stock forecast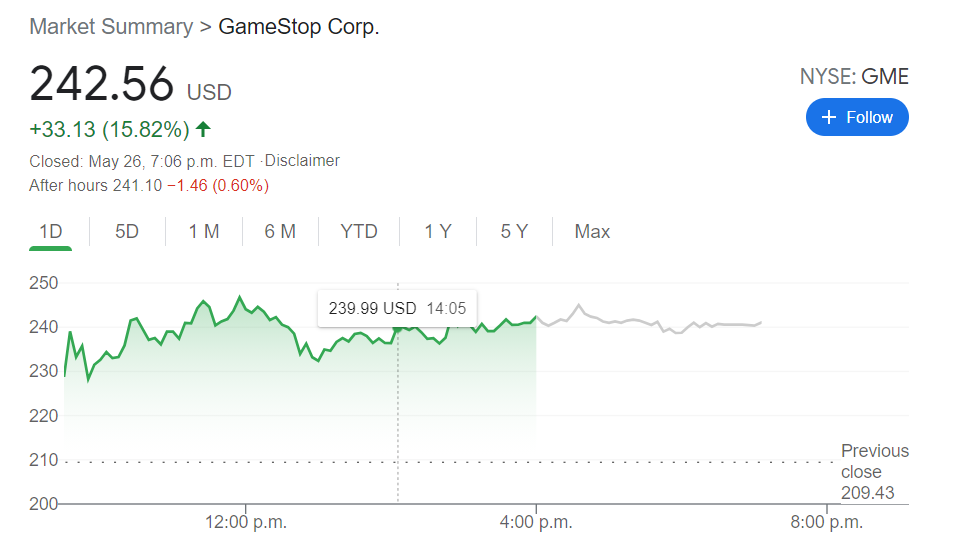 Wednesday also saw other stocks like AMC (NYSE:AMC) and BlackBerry (NYSE:BB) surge as sympathy plays to GameStop. The rally also came alongside a rebound in the cryptocurrency markets, as Reddit investors continue to move back and forth between cryptos and meme stocks. It is estimated that the latest short squeeze cost hedge funds over $754 million on Tuesday alone, and there could be a lot more pain incoming as Redditors are refusing to let off the gas.