Chinese conglomerate Dalian Wanda Group has sold almost all of its stake in US cinema chain AMC Entertainment Holdings, the highly indebted company said on Sunday.
"The company has been trimming its position in AMC Entertainment since 2018, in line with our strategy of focusing on the domestic market," Wanda said.
As of Sunday, the company has sold stake worth a total of about US$1.5 billion and retained a 0.002 per cent holding, making a gain of about US$675 million including dividends since 2012, according to a Bloomberg analysis. It held a 6.8 per cent stake as of April 9, according to a stock exchange disclosure. The Chinese company has completely exited AMC's board.
The AMC stake sale is the latest instance of Wanda offloading assets under pressure from Beijing, which wants it to pare back its overseas holdings and debt. The company was placed on a watch list by regulators in 2017 along with Anbang Group, Fosun Group and HNA Group. These privately controlled Chinese conglomerates had accumulated some of the world's largest debts after snapping up overseas trophy assets, often at premium prices, and were facing significant debt maturities.
Wanda acquired AMC in 2012 for US$700 million. It acquired AMC's US$1.9 billion debt at the same time. "This acquisition will help make Wanda a truly global cinema owner, with theatres and technology that enhance the moviegoing experience for audiences in the world's two largest movie markets," Chinese billionaire Wang Jianlin, Wanda's founder, said at the time.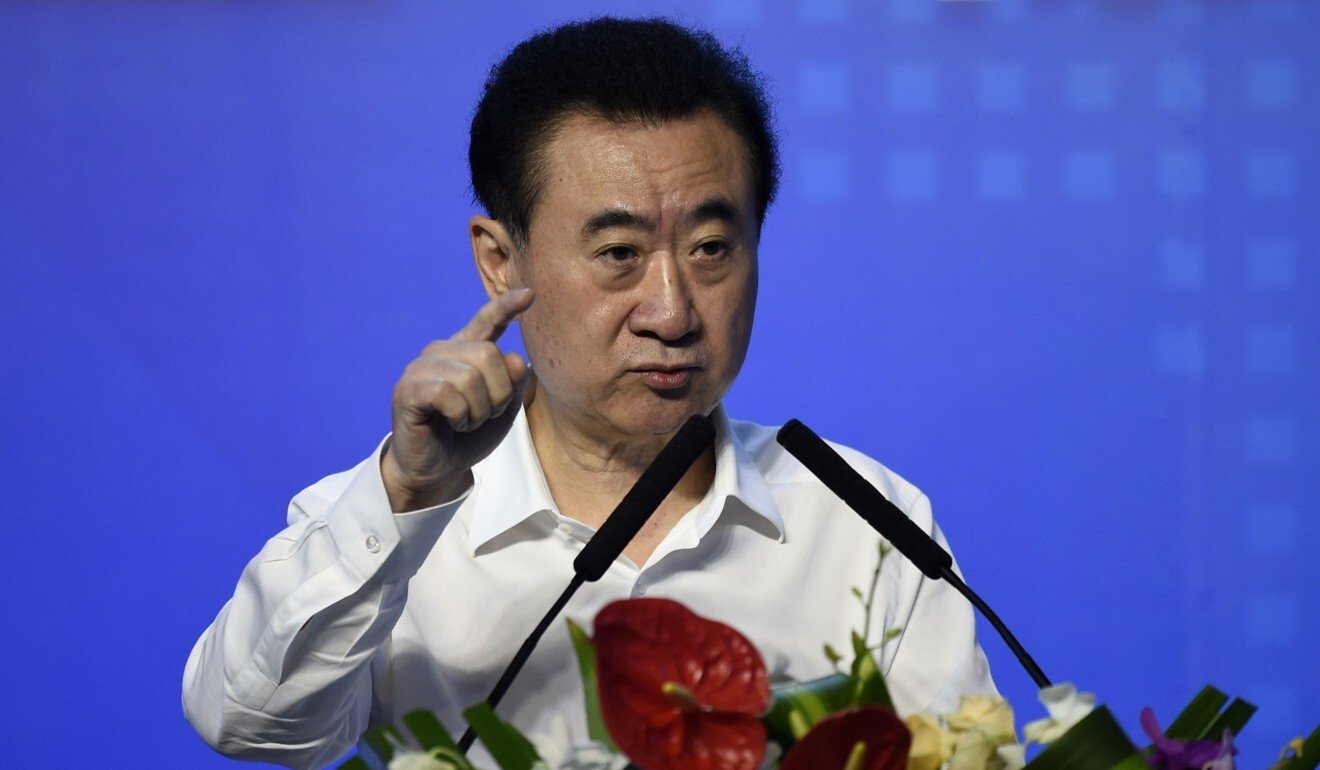 Wang Jianlin, Dalian Wanda Group's billionaire founder. Photo: AFP
The acquisition came amid a highly leveraged shopping spree around the world by Wanda, which snapped up Hollywood studios, luxury hotels and European football clubs. The Chinese conglomerate took AMC public through an initial public offering on the New York Stock Exchange in 2013.
"Under their ownership, AMC became the biggest cinema operator in the world. Importantly, Wanda also has supported our reinvestment of billions of dollars to upgrade and enhance our network of theatres for the benefit of film-goers throughout the United States, Europe and the Middle East," Adam Aron, AMC's chief executive and president, said in a filing about Wanda's stake sale made on Friday.
The cinema chain reported a net loss of US$4.6 billion for 2020 while revenues fell 77.3 per cent to US$1.2 billion. AMC is among businesses worst hit by the Covid-19 pandemic, because of the resulting lockdown restrictions that necessitated theatre closures, it said in its filing to the New York Stock Exchange on Friday.
AMC's shares jumped to a record in January after day traders congregated on Reddit's WallStreetBets forum piled into the stock. While the company has fallen from its high in January, the stock has still jumped to US$13.47 from US$2.12 at the end of last year.
Wanda's stake sale "could be the strategy for the short future" for the company, said Wilson Chow, global technology, media and telecommunications leader at PwC. "After all, the mainland market is more promising while in most other parts of the world, the cinema market has been badly hit by Covid-19 because of social distancing restrictions. Even though some cinemas are open up, they are operating in a restricted mode. For example, people need to be with masks on all the time. No eating and drinking and the salon cannot be fully occupied," Chow added.